Fan Type
:
EC Axial Fan 230VAC
EC axial fan is driven by brushless EC motor. It uses a permanent magnet excitation and it is easy to control. An axial fan, in general, is the most commonly used as cooling fan, as well as the most cost effective. Also called "box fan" on occasion, they move air on a straight axis through the fan. This kind of fan functions best under a low pressure or low system impedance environment. With reduced fan speed the noise produced by an axial fan can be kept at a minimum.
This model no. is PG3N300B2EM. It works with 230v AC voltage input. Impeller size is 300mm with a frame in size 322x141mm. Frame material is steel and coated in black.
Key words
:
ec axial fan
,
brushless ec motor
,
cooling fan

Model
Motor Type
Bearing
System
Rated
Voltage
Frequency
Rated
Current
Rated Power
Rated
Speed
Air Flow
Air
pressure
Noise
Level
Part NO.
Type
B / S
VAC
Hz
A
W
RPM
M3/H
Pa
dBA
PG3N300B2EM
BE92AC
BALL
230
50/60
0.9
125
1650
2156.2
196
70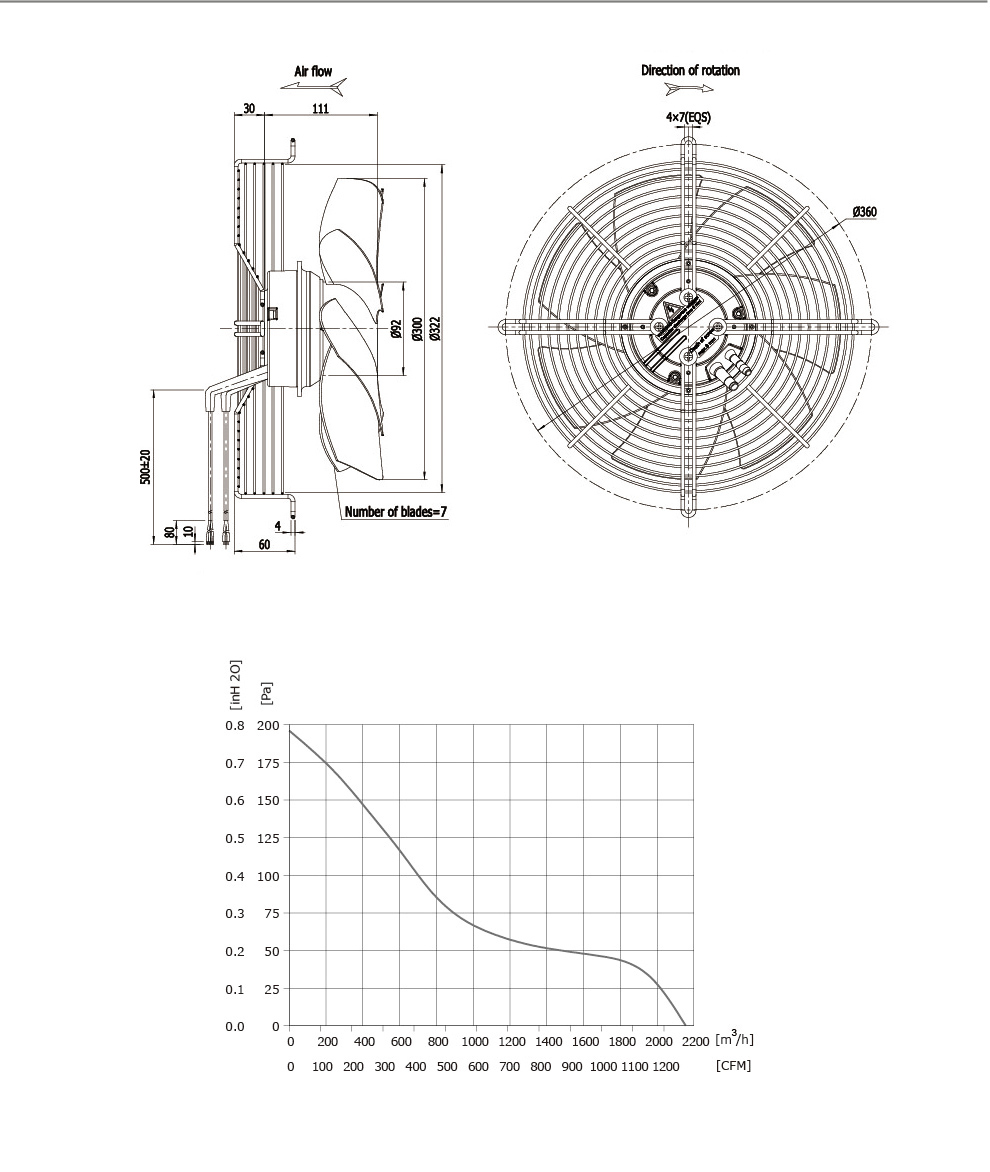 Q1: How about the delivery time?
A: Within 25 days after we receive the
order.
Q2: What kind of payments do you support?
A: T/T.L/C, other kinds please contact with us.
Q3: What's the MOQ?
A: Generally speaking, the MOQ is 100 pieces. Different products have different M
OQ, Please contact with us.
Q4: Transportation?
A: All available shipping ways could be applied, by courier, air or sea. Appointed shipping company or our own forwarders all could be used in shipment. Fullway tracking the cargos for you before the goods
arrive.
Q5: Global Market
A: Depending on advanced technology and knight service, we establish a good and diligent team and keep nice business relationship with a large amount of worthy clients in global market. We are prepared to provide the best DC Axial Fan to clients at competitive price. In addition to control of cost and quality, our stipulated lead-time, variety of designs, capability of product development and flexibility of service bring convenience and value added services to the clients.
Q6: Contact Us
A: We highly appreciate your any enquiry by email, fax or instant message. We will reply your email or fax within 12 hours. Please fell free to call us at any time if there is any questions.
PBM is a China Mainland consulting company and manufacturer specialized in EC Fans only since 2005